Hey guys I wanted to share an amazing, nutrient dense meal I truly love and eat every day.
Calories: 900kcal,
Carbs: 180g,
Protein: 27g,
Fat 4-18g,
Prep Time: 10min,
Cooking Time: 40min
It's packed with Vitamins A, C, E, K and Vitamins from B family as well as vital minerals like Manganese, Potassium, Magnesium, Calcium, Iron and Phosphorus. It has around 180g of carbs, 27g of protein and around 18g of fat (which you can reduce to about 4g by eliminating Walnut Oil).
The cooking time is 40 minutes, so while you wedges are roasting in the oven, you can do your planks, push-ups, dips and squats (that's what I do) to break some sweat before this nourishing gift to your body.
It feels like a cheat meal to me, but it's a healthy, nutritious and very satisfying meal.
Most of all: no animals get harmed in preparation of this meal!
Ingredients:
3 medium/large sweet potatoes
1 large sweet pointed pepper (use any pepper you like)
1 courgette (also known as zucchini)
1 stalk of leeks
1 red onion
ground Cayenne pepper (as much as you like )
Smoked paprika (as much as you like )
Walnut oil
Bonus ingredient: 250g Asparagus!
Let's prepare this meal:
Start with preheating the oven to 190°C (mine has a fan, if yours hasn't then your cooking time could be little bit longer)
Wash all the veggies and cut them up (leave asparagus to the side). I always leave the skin on, but you feel free to peel the potatoes and courgette if you so desire. Spread the veggies on a baking tray (I use glass Pyrex roaster). Drizzle some Walnut oil and add seasoning.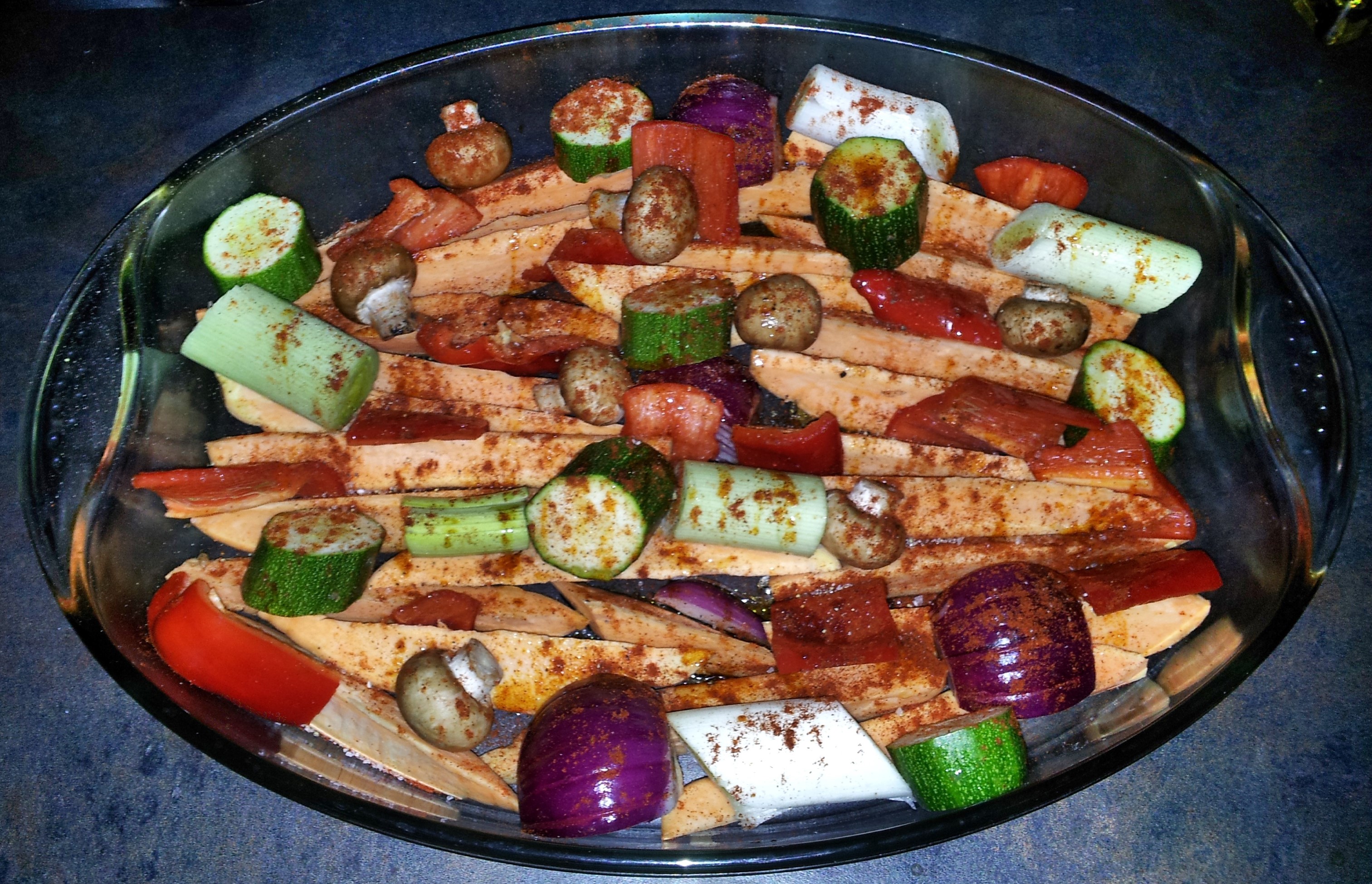 Your oven should've reached the temperature by now, so get them veggies roastin'. It should take about 40 minutes to cook but it all depends on the oven so keep an eye on it from time to time.
What you can do is at around 30 minutes mark take out your veggies, spread the asparagus on top, add some more seasoning if you wish and put the veggies back in the oven for another 10-12 minutes.
Enjoooooooooy!!